Česká komunita k Zákonu jednoty na zakonjednoty.cz
Český překlad Zákona jednoty (PDF)
* Partnerské odkazy.
Buy the Law of One books, audiobook, and lo1.info merchandise
New! A lo1.info tee shirt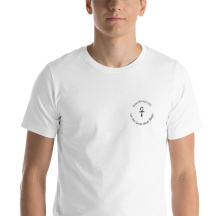 Available at Bonanza.com
---
The Ra Contact
Published by L/L Research in 2018, this two-book series is based on the "Lightly Edited Version" from lawofone.info. It includes all 106 sessions with only light edits for readability. Volume I contains sessions 1–56 and Volume II contains sessions 57–106.
Recorded by Jim McCarty, scribe for the channeling group.
Free Trial Audible Membership (lets you download the Ra Contact Volume I audiobook for free)
Complete index to both books of The Ra Contact
---
The Original Law of One Books
Available October 28, 2020.
Contains a lengthy introduction that explains L/L Research's methodology and how they came to contact Ra. Sessions 1–26. Published in 1984.
Sessions 27–43 and 46–50 (sessions 44 and 45 were not published until Book V). Published in 1982.
Sessions 51–75. First published in 1982.
Sessions 76–97, 99–100, and 103 (sessions 98, 101, 102, 104, 105, and 106 were not published until Book V). First published in 1984.
Published in 1998. Contains most of the questions and answers that were withheld from Books I-IV, along with commentary by Jim McCarty and Carla Rueckert about the newly published material.
As an Amazon Associate, lawofone.info earns from qualifying purchases at Amazon.
We use geni.us to redirect Amazon links to the correct country's storefront.
Ra kontakt knihy © 2018 L/L Research a Tobey Wheelock.
Tyto stránky © 2003–2020 Tobey Wheelock.
Otázky? Komentáře? Napište mi na tw @ law of one tečka info.